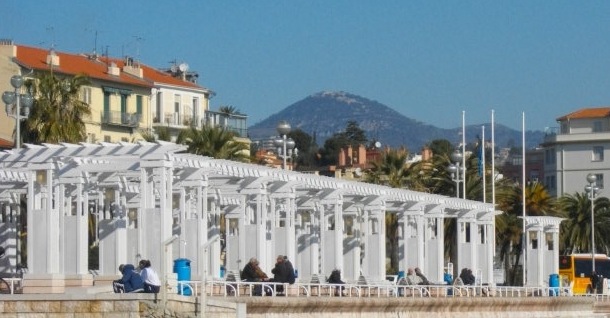 The Mount Chauve seen from the seaside in Nice

It's an extraodinary belvedere on Nice and the coast. You're almost 3000ft high and you directly overlook the city.
The road to go there is a dead end one. It is fairly narrow with many hair-pin bends. It is closed on the last kilometer and you will have to finish walking using a trail (shorter) or the road (longer but easy even with city shoes).
If you overcame all this difficulties you'll get to the fort which tops the Mount Chauve. Climb the (steep) stairs on your right and from there you will have a breathtaking panorama*** over the coast, 180° wide, including Nice, Cannes , the Esterel and the Baou de St Jeannet. The fort can't be visited and on the West, the view is partly spoiled by antennas. Nothing serious, though.
To enjoy the sightseeing on the Mountains-ward side (North), you have to walk around the fort. It's not easy if the grass is high. You'll enjoy a wonderful view. But you can have the same kind of view from the Revere fort on the Grande Corniche, and it is easier to go there. Do not go to the Mount Chauve to see the Mountains in the North, but if you are there try to walk around the fort to do it.
You can also walk to the Mount Chauve. Use the GR5 (the trail linking the Netherlands to Nice across the Alps and the Vosges) from Nice or the Aire St Michel, North of the city, or from the Aspremont parking lot. The GR doesn't go directly to the summit, but passes 100m below. A fork will get you to the summit. Beware in summer, there is no shade.
By bicycle the road is fairly quiet, with few cars. But the surface is uneven and you have to brake relentlessly on your way back because of the bends. The descent will hurt your forearms. You can go to the summit with a road bicycle.
If you liked the Persuaders you will maybe recognize the road which was used in one of the episode. Under the summits there are abandonned barracks which were also used as a set in the same episode.
On the flanks of the Mt Chauve , but far from the top is also the Pyramid of Falicon.