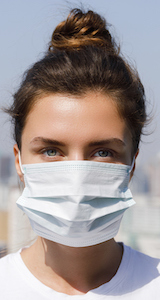 We give you here news about the French and local regulations to enable you to decide whether it's worth planning a trip here soon, and will try to update this article regularly.
Keep in mind that if the situation worsens abruptly, the present trend to lift restrictions will reverse to new restrictions, of course.
After June the 2nd
The government has announced that the sanitary situation is rather good now in France. We are entering the second phase of the "unlocking" ...
Free travels within France are allowed again, everywhere, without any certificate.
All beaches are open. All shops are open.
All bars and restaurants are allowed to open. No more than 10 people per table, and at least one meter between tables. In Paris and its suburbs, only outdoor tables are allowed, at least in the beginning. This is the last area where the situation is not satisfactory.
Outdoor sports and indoor sports are allowed again, provided that sanitary measures are taken.
Museums are open again.
Movie theaters and theaters should reopen after June the 22nd.
The usual restrictions still apply : stay one meter away from other people. If you can't, wear a mask.
Masks are still mandatory in public transports. Always have one with you in a public area, to be able to wear it if you're requested to do so. The train traffic should resume to normal after mid june. In planes, all seats will be used, with people wearing masks.
Free travels across borders is not yet possible. Controls are made. Inner european borders should be open after June the 15th. restrictions will apply to people coming from Spain and the UK, because these countries still enforce quarantines for travellers. As a result a 14 days quarantine will be requested for travellers coming from these countries.
A state of emergency exists in France until July the 23rd. It enables the government to react quickly in case of a new situation linked to the covid crisis, without the approval of the Parliament. This state of emergency will be discussed and prorogated if need be by the Parliament, in July.
All shows, sport events, professionnal shows and large gathering of more than 5000 people are forbidden at least until the end of august. The Tour de France, if everything goes well, should be the first event of such magnitude to be organized in France after the lockdown.
July and August
The government has decided to open the borders to all travellers after July the 1st. Whether or not they will have to spend 14 days in quarantine is not clear yet. It will probably depend on where they come from and the sanitary situation there.
French people are advised by the state to consider spending their vacation in France. During the summer monthes museums, beaches, all touristic activities such as theme parks should be open. Hotels, camping, including their swimming pools too.
Nice airport
Air China, Delta airlines and United Airlines have decided in the end of April to close their stopovers in Nice airport and cancel their flights, probably until september. It does not mean that flying to or from Nice will be impossible during the whole summer, but that a connection somewhere (Paris, London, Frankfurt) will be needed. Check with your favorite airlines what they offer and suggest.