Nice under nazi rules
Today, that's the Galerie Lafayette arcades, Jean Médecin street. On July the 7th, 1944, the nazis hanged to the street lights of these arcades 2 Resistants who had been denounced and captured in Gattieres, a village of the Var valley. Their names were Séraphin Torrin et Ange Grassi. The hanging occured in front of a crowd which had been foreced to attend and the corpses remained hanged under these arcades for 3 hours.
The main places where Resistants were jailed and tortured in Nice are
the Villa Lynwood, 103 avenue de Brancolar, in Cimiez, which was used by the Italian fascists before the nazis came
the Villa Trianon, used by the Gestapo from 43 on. It was located 8, Avenue Gustave Nadaud, in Cimiez too. It was the main interrogation center of the Gestapo. Many suffered, died and commited suicide not to talk here. It was destroyed in 1954. Two buidings were built to replace it.
the Hotel Hermitage, a palace on the Cimiez hill which had been turned into the Gestapo headquarters. Here also resistants were tortured and killed by the nazis. The building still exists, although it is today a luxurious residence. It is located 42, avenue Emile Bieckert.
The Villa Lynwood
The Villa Trianon
The Hotel Hermitage :
The military headquarter of the Wehrmacht (army) was located in the Atlantic Hotel, 12 bvd Victor Hugo, an hotel which still exists.
Deportation of Jews
To know more about the deportation and mass murder of the Jews of the area, which was planned in the Excelsior Hotel, read this article.
The liberation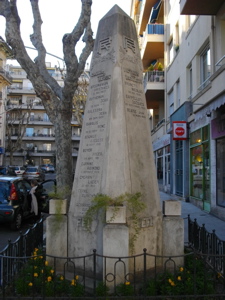 After the Provence allied landing, the troops head North and towards Marseille. Nice is not a military priority. A comity of local Resistants therefore decides, on August the 27th, to free the city the next day. They met in the Stella palace, 20 avenue de Cessole.
This monument is located at the "railway crossing" (Passage à niveau) where the first fightings of the insurrection in Nice, August the 28th 1944, occured. It bears the names of the Resistants who died that day.
To know more about the Resistance in Nice and the region in WWII see the museum of the Résistance on the Riviera