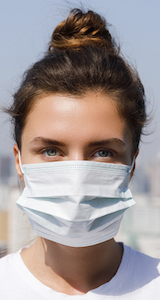 Last update : June the 21st, 2021.
We give you here news about the French and local regulations to enable you to decide whether it's worth planning a trip here soon, and will try to update this article regularly.
The sanitary situation is steadily improving now in France and the planned lifting of sanitary measures goes on.
No more curfew in France. All shops, museums, theaters... are open.
You must wear a face mask in all indoor public spaces : shops, museums, commercial malls, theaters, public transports, churches, restaurants and bars (any time you're not seated), administrations, post offices... We remind you that the mask must cover the chin, the mouth and the nose to be efficient.
Discotheques are still closed but will be allowed to open again in July (the 9th).
You don't need a mask any longer outdoor, if you're not in a large crowd, or on a market. 
Coming from a foreign country.
Cross borders travels are allowed depending where you come from. Controls are made. We advise you to check the regulation on the website of the French Ministry of Foreign Affairs. This page is available is several foreign languages, including German, Russian, Chinese...
Foreign tourists coming from outside the European Union are allowed to enter France again, depending on the country they come from.
The world is divided in 3 areas according to the level of the epidemic in each country.
People living in green countries (UE, Australia, Israel, Japan, New Zealand, South Korea, Lebanon, Singapore...) are allowed to enter France with no particular reason and without a test, if they got a vaccine. People without the full vaccine at least 14 days old (or 28 days for the Johnson & Johnson one) need a recent, negative PCR test.
People from the orange area (including the USA and the UK) must have had a vaccine (in this case no particular reason is needed to enter France), or they must have a valid reason to come and a recent, negative PCR test.
People from the red area are not allowed to enter France without a valid reason, a recent, negative PCR test (no matter whether they got the vaccine or not) and a 7 to 10 days quarantine.
See the details and the updated lists of countries in each zone on this official website.