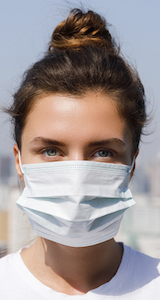 Last update : May the 1st, 2021.
We give you here news about the French and local regulations to enable you to decide whether it's worth planning a trip here soon, and will try to update this article regularly.
A curfew is now enforced in France all week long, H24.
During the curfew the reasons allowed to go out are restricted compaired to what is allowed during the day. (Doing sport outdoor for exemple is forbiden during the curfew.) All restaurants and bars are closed.
To go out during the curfew you must have a certificate saying why you do it. A limited number of reasons are allowed : going to work, help a vulnerable person, comply with a judiciary summon, all kinds of medical emmergencies.... You can download the certificate in english from the official gouvernement's website here.
You must wear a face mask in all indoor public spaces : shops, museums, commercial malls, theaters, public transports, churches, restaurants and bars (any time you're not seated), administrations, post offices...
Masks must be worn in the streets, outdoor, everywhere in urban areas. Masks are therefore also mandatory in parks and on the hills around the city, on the beaches.
Gatherings of over 6 people in any public space are forbidden.
We remind you that the mask must cover the chin, the mouth and the nose to be efficient.
The usual restrictions still apply : stay 2 meters away from other people. If you can't, wear a mask. Wash your hands...
Cross borders travels are allowed depending where you come from. Controls are made. We advise you to check the regulation on the website of the French Ministry of Foreign Affairs. This page is available is several foreign languages, including German, Russian, Chinese...
The end of the restrictions.
The President announced in the end of April a plan to end the restrictions in 4 steps.
From June the 9th on (the 3rd step), foreign tourists coming from outside the European Union will be allowed to enter France again, if they have a valid sanitary pass proving that they're not sick or even better that they got a vaccine. At that time the curfew will begin at 11pm each day instead of 7pm. It will be completely cancelled in the end of June. Bars and restaurants will be allowed to open with a limited number of customers. Museums, theaters, exhibitions and displays will be open again with a limited number of visitors. Unlimited trips in France will be allowed.
Local restrictions will be taken if the local sanitary situation is not good enough or worsens quickly.
Only discotheques should remain closed all summer long.