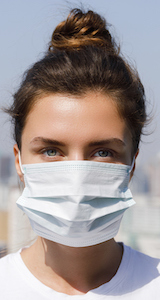 Last update : August the 22nd.
We give you here news about the French and local regulations to enable you to decide whether it's worth planning a trip here soon, and will try to update this article regularly.
The lock down is over now.
The sanitary situation has been worsening in France for a few weeks. It is still far from critical and what happened during the last spring but there are increasing signs showing that the virus is still here and that the crisis is far from over yet. Therefore the wearing of a mask is mandatory in all indoor public spaces : shops, museums, commercial malls, theaters, public transports, churches, restaurants and bars (any time you're not seated), administrations, post offices...
The Maritim Alps, the "departement" (an administrative area) where Nice is located is one of the six French "departements" where the situation is the most worrying in the country, although it is, again, far from what happened during the spring crisis. The situation is worse in Marseille.
The mayor of Nice and the state representant have also decided that masks should be worn even in the streets, outdoor, everywhere within the limits of Nice. (Mayors, when representatives of the state agree, can indeed enforce local regulations.) Masks are therefore also mandatory in parks and on the hills around the city, as long as you're within the limits of Nice.
On the beach, taking off the mask is tolerated if you are on your towel and if the distance between you and other people is greater than 1m. Of course you may take it off to go into the water. But if you walk on the beach to buy an ice cream or fetch your kids, wear it.
We remind you that the mask must cover the chin, the mouth and the nose to be efficient.
Many cities in France enforce also such a regulation mad request people to wear masks outdoor, somtimes everywhere, sometimes in specifc areas only. Unfortunately there is no website giving a list of these cities. If you visit other cities on the Riviera, ask people or, even better, a policeman what you must do.
Now - after lockdown situation.
Free travels within France are allowed again, everywhere, without any certificate.
All beaches are open, but the distance between towels must be larger than 1m. All shops are open.
All bars and restaurants are allowed to open. No more than 10 people per table, and at least one meter between tables.
Nightclubs are still closed.
Outdoor sports and indoor sports are allowed, provided that sanitary measures are taken.
Museums are open.
Movie theaters and theaters are open.
The usual restrictions still apply : stay one meter away from other people. If you can't, wear a mask.
Masks are still mandatory in public transports. Always have one with you in a public area, to be able to wear it if you're requested to do so. In planes, all seats will be used, with people wearing masks.
Masks are mandatory in shops and all indoor public spaces.
Cross borders travels are allowed depending where you come from. Controls are made. Inner european borders are open, with specific restrictions for people coming from Spain and the UK, because these countries still enforce quarantines for travellers. If you come from a country out of the E.U., the regulations change according to the sanitary situation there. We advise you to check the regulation on the website of the French Ministry of Foreign Affairs. This page is available is several foreign languages, including German, Russian, Chinese...
All shows, sport events, professionnal shows and large gathering of more than 5000 people are forbidden at least until the end of august. The Tour de France, if everything goes well, should be the first event of such magnitude to be organized in France after the lockdown.
French people are advised by the state to consider spending their vacation in France. During the summer monthes museums, beaches, all touristic activities such as theme parks should be open. Hotels, camping, including their swimming pools too.
Nice airport
Air China, Delta airlines and United Airlines have decided in the end of April to close their stopovers in Nice airport and cancel their flights, probably until september. It does not mean that flying to or from Nice will be impossible during the whole summer, but that a connection somewhere (Paris, London, Frankfurt) will be needed. Check with your favorite airlines what they offer and suggest.
The terminal 1 building will be closed until March 2021, all flights departing and arriving in the terminal 2.
A test showing that you're not covid-19 sick is requested to enter France if you come from 16 countries, including the USA, India, Israel, Algeria, Madagascar, Serbia, South Africa, Turkey and other middle East or South America countries, such as Peru and Brazil. The test must be less than 3 days old when you arrive in France. If you don't have a certificate, you will have to submit yourself to a test in the airport. A 14 days quarantine will be enforced if you're sick. Otherwise you won't be allowed to enter the French territory.
This is not a political measure, but a sanitary one. The 16 countries are the ones where the disease is spreading very quickly now. This restriction is enforced not only in Nice, but in all French airports and ports.