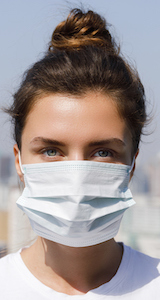 Last update : Nov the 7th.
We give you here news about the French and local regulations to enable you to decide whether it's worth planning a trip here soon, and will try to update this article regularly.
The lockdown is enforced everywhere in France now, at least until the beginning of december.
To go out you must have a certificate saying why you do it. A limited number of reasons are allowed : buying food or other necessary goods, going to work, help a vulnerable person, comply with a judiciary summon.... You can download the certificate in english from the official gouvernement's website here.
You must wear a face mask in all indoor public spaces : shops, museums, commercial malls, theaters, public transports, churches, restaurants and bars (any time you're not seated), administrations, post offices...
The mayor of Nice and the state representant have also decided that masks should be worn even in the streets, outdoor, everywhere within the limits of Nice. (Mayors, when representatives of the state agree, can indeed enforce local regulations.) Masks are therefore also mandatory in parks and on the hills around the city, as long as you're within the limits of Nice.
We remind you that the mask must cover the chin, the mouth and the nose to be efficient.
Many cities in France enforce also such a regulation and request people to wear masks outdoor, somtimes everywhere, sometimes in specifc areas only. Unfortunately there is no website giving a list of these cities. If you visit other cities on the Riviera, ask people or, even better, a policeman what you must do. St Laurent du Var, Cagnes sur Mer among other cities on the Riviera made wearing a mask outdoor everywhere mandatory.
The usual restrictions still apply : stay one meter away from other people. If you can't, wear a mask.
Cross borders travels are allowed depending where you come from. Controls are made. We advise you to check the regulation on the website of the French Ministry of Foreign Affairs. This page is available is several foreign languages, including German, Russian, Chinese...
Nice airport
The terminal 1 building will be closed until March 2021, all flights departing and arriving in the terminal 2.