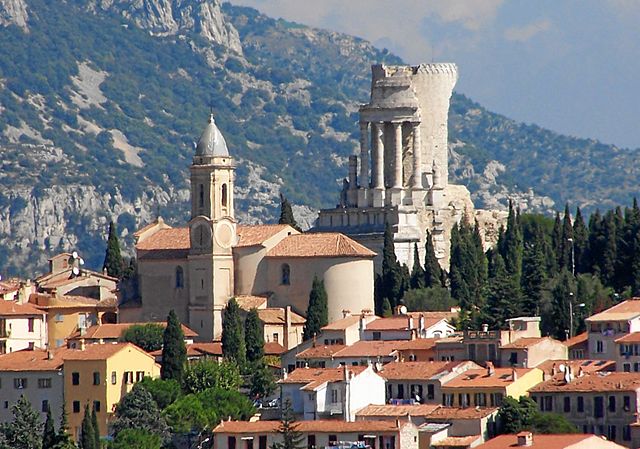 Pict. Berthold WERNER
La Turbie overlooks Monaco and Monte-Carlo. Many Monaco inhabitants have also villas here to escape the heat in summer. It's on the road going from la Turbie to Monaco that Grace Kelly, the late Princess of Monaco and favorite actress of Alfred Hitchcok was killed in a car accident.
If you like Football, la Turbie has a football field dug in the cliff, used as the training field by the Monaco football team. It is just above this road, by the way.
If you like hand climbing you will be able to do it in the routes of the "tete de chien" (dogs'head), offering a great view on the Sea, Monaco and the coast, 500m below. beware it's hot in summer. The dome you will see on the Tete de Chien is not a military radar but a test center for the national center for telecommunications.
The Golf course of Monaco is also in la Turbie.
Trophy of d'Augustus,  Aurélia Via
La Turbie is  for its Trophy of Augustus. You can visit it all year long, but on mondays and some public holidays (5,50€/adult in 2015). It was built as a tribute to Augustus, the Emperor which succeeded Caesar. He had defeated celts and ligurians in this area. The trophy included a monumental statue of Augustus which was 35m above the ground, which is itself 500m above the Sea. Boats could see it from far away, no doubt. It was actually at the top of the Julia-Augusta Via.
From the Trophy there is a large view on Monaco and the coast. The visit includes a museum with models and informations about the Roman presence in this area.
In the middle age it was used as a fortress and as such was mined in the 17th century when France invades this part of the Savoy  dukedom. (see this article to get  information about the History of the area). The inhabitants of la Turbie finished the job, looting the stones to build the church of the village.
The Julia-Augusta via was the part of the Aurelia Via which is between Piacenza (in Italy) and the Var river. The Aurelia Via was a strategic road since it linked Rome to the Rhone river, avoiding the Alps.