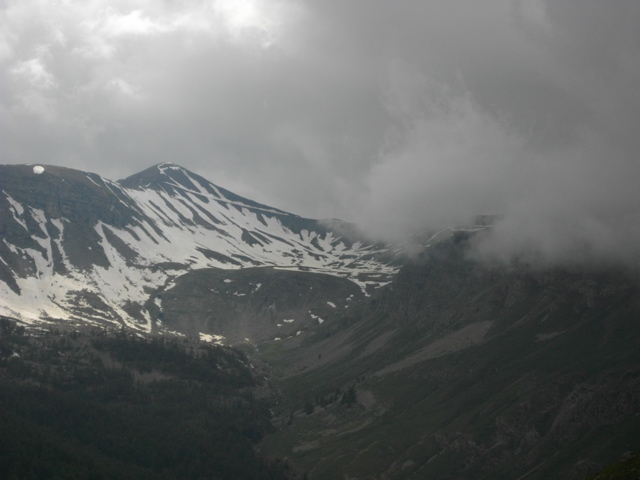 If you can't or won't hike in the mountains, the Maritim Alps still give you an opportunity to go higher than 2800m by car.
You will have to go upstream the Tinée valley, beyond St Etienne de Tinée, towards Jausiers.
On your way you will pass, shortly before you get to St Etienne, next to the largest landslide in Europe. It's a whole mountain which is falling down. The road was diverted not to be buried. A little before St Etienne, there is a fairly steep slope with hair-pin curves. On the top, a roundabout with a road going towards Auron and a cable car cabin in its center. Look on your right and you will see the flank of the mountain which is falling down. The houses below are all abandonned. Too dangerous.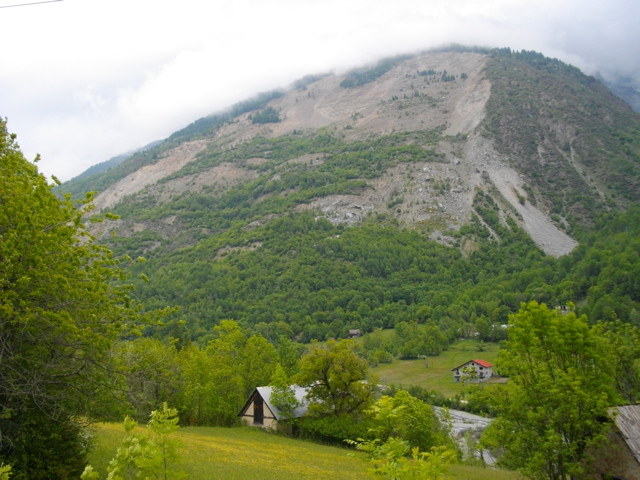 After St Etienne you will make a right to take the road towards the pass. It is narrow and you have to be careful. 
6 or 7km before the pass, you will ride through the ruins of the Camp des Fourches, barracks built here before WWI. You can pull over and wander among these buidings. There were in service until 1939. Further you will see memorials along the road. One of them is a tribute to a general who came here to supervise manoeuvers and who was struck by a lightning bolt during a thunder storm.
Advertised as the highest in Europe (which is not true), the road will lead you to the pass (2715m). From there a little loop around the summit. It's worth, if there is no snow, to park your vehicle at the highest point (2802m). If you walk to the summit (2860m, 5-10 minutes on an unpaved trail) you will have a wonderful sightseing on the summits around you  (including the Mt Mounier, the Mt Viso in Italy and the Ecrins mountains) and a viewpoint indicator to guide you. Beware the altitude, you don't breathe as easily. Wheather changes quickly and it's cold if it's windy. (The first picture shows the pass, right, the summit, left, and the loop, the oblique line with snow.)
The pass is closed a large part of the year. By the end of spring the closing can be partial, at night for exemple. Check before you set off.