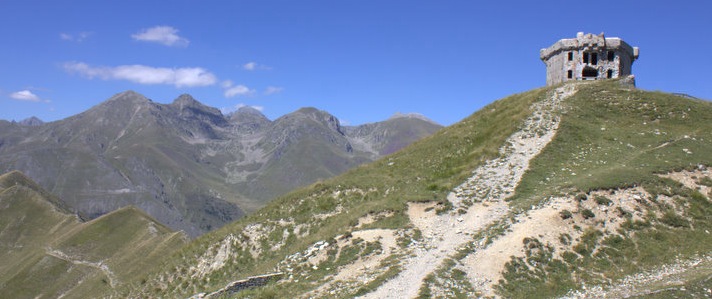 If you want to see the mountains from close, in a natural landscape without having to walk too much, the Authion is made for you. From the top, next to the fort and at almost 2000m high, you will face the Cime du Diable (Devil's mountain), the Grand Capelet, the Gelas, the Argentera (3100m, in Italy) and Mount Bego which overlooks the Valley of Wonders. Beware, weather can be really cool there, even in summer, especially if a few clouds wander nearby. If it's a great blue sky with no wind, it can be hot. In any case do not forget to bring a lot of water to drink. Altitude will make you thirsty.
To go there, you will pass through L'Escarène, Lucéram, Peira Cava and then the col de Turini, an iconic place of the Monte Carlo WRC rallye. The climb between Luceram and peira Cava is scenic with its spectacular views and its many hairpin curves. It ends among pine trees. From the pass on you are on a narrow road and leave the forest. First a two ways road, it becomes a one way road when you get to the final 7-8 km circuit. This itinerary includes the circuit.
You can do all the circuit driving or park your car at the border of the National Parc and then walk to the fort at the top of the Authion. It's an easy 30mn walk. Steep at the beginning but not for long. You are then in the Mercantour National Park and your pets are not allowed in.
In winter there is a tiny ski resort which will be perfect if you have young children. A restaurant will feed you and sell you blueberries pies. You will pass in front of it when you go to the starting point of the circuit. We are not sure that it is open in summer.
During WWII there were fightings on the Authion. In 1940 first when the French victouriously resisted to the italain invasion, and then in march 1945 between Germans and the French. Nice had been liberated 7 monthes earlier and they were among the very last fightings on french soil. Hundreds of soldiers died there. You will see marks on the fort and other military buidings on the Authion. If you read French and want to know more about these fightings, read this article.