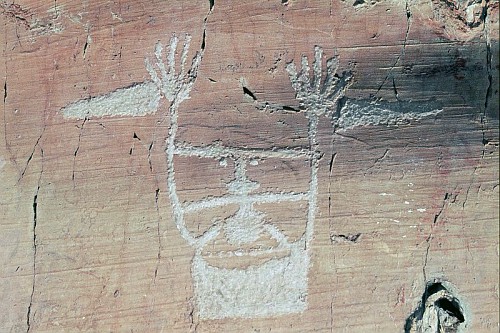 Le Sorcier, Photo Roger SETTIMO - Parc Nal du Mercantour
This valley is located at the foot of Mt Bego and houses more than 40,000 rock engraving. There were created 5000 years ago by people who were contemporaries of Ötzi, the man discovered in ice in Austria in 1991. It is the largest site of rock engraving in Europe. This is really an exceptionnal place. The Mt Bego was a sacred mountain for these people.
To get there
You can enter the valley from the Roya valley using the junction towards Casterino, or else from the West, walking from the Gordolasque valley (in the upper Vesubie valley) via the Arpette pass. If you come from the Roya valley, there are 2 options. Park you car next to the Lac de Mesche, or go one until the Casterino village. Each one leads to one of the 2 zones where there are the most engravings. From the lake you can go in 3h to the refuge des Merveilles where the landscape is mineral and where you will see engravings such as the "Sorcier" (medicine man) or the Chief of tribe. From the village in 2 hours you will go to the Fontanalbe valley where the landscape is greener and where you will see, among others, engravings of beefs towing wagons, archers....
A specific regulation
To protect the engravings, it is now forbidden to leave the trails. This enbable you only to see a few of them. To see the others you must be with a guide. The tour lasts around 3 hours. Wear walking shoes. The price is 12€/adult. No need to book ahead. the guides will be there and will start the tours at predefined schedules.
To know more about the guided tours (in French).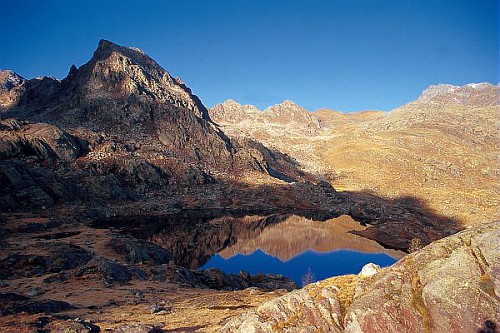 Photo Parc National du Mercantour - Gilbert ROSSI
See this page of the National Park for the specific regulation enforced in the Vallée des Merveilles and how to visit it with a guide. Also see this one to know how to go to the valley from Tende, especially if you come by train or by bus.  The valley of wonders is in the National Park of the Mercantour. No pets allowed in this valley, and camping there is regulated.
The detailled chart which you will need to hike in the valley of wonders is : IGN 3841OT ROYA - MERVEILLES. You will probably find it difficult to buy it at your local retailer's, unless you live in the Roya valley. But you can order it here.