Golfe Juan is the sea resort. Vallauris is the inland village. Two parts for one city.
Golfe Juan
Golfe Juan offers sandy beaches. If your main occupation is to go to the beach it can be a smart location to stay. A train station enables you to easily go to Nice, Cannes, Monaco, Menton to visit the area. It's more complicated to go in the back land if you don't have a car. To find accomodation in Golfe Juan follow this link .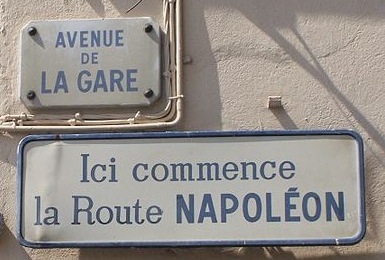 Golfe Juan is the starting point of the Route Napoléon. On odd years, a reconstitution with costumed soldiers occurs around March the 1st to celebrate the landing of Napoléon and his little troop on the beach, where it occured in 1815.
Vallauris
Vallauris is immediately associated with ceramics. Indeed, Picasso lived in vallauris from 1949 to 1955 and discovered ceramics.This activity goes way back here to Roman ages and had its golden age in the 17th century. In the 20th century it was on the verge of disappearing but the Master felt a passion for this kind of creation and poduced many artworks, giving to the cermaics of Vallauris a worldwide fame which still exists. the Madoura gallery was in charge of exact copying some of its works so that they should be used in every day life. Plates and other objects designed by Picasso were manufactured this way.
Picaso has a museum in Vallauris, centered around a fresco in the castle's chapel : Guerre et Paix, (War and Peace). A statue made by Picasso stands in front of the church : the man with the sheep.
Musée National Picasso "La Guerre et la Paix"
Castle of Vallauris
Place de la Libération - Tél. 04 93 64 71 83
Open 10am - 12:15pm & 2pm - 6pm (5pm from 15/9 to 15/6)
Closed on tuesdays and some public holidays.
We must also say that Vallauris suffers from a bad reputation in the area. The village and some nearby districts are considered now by some Riviera inhabitants as unsafe. Be careful when you park your car, do not let anything visible inside.