Page 1 of 4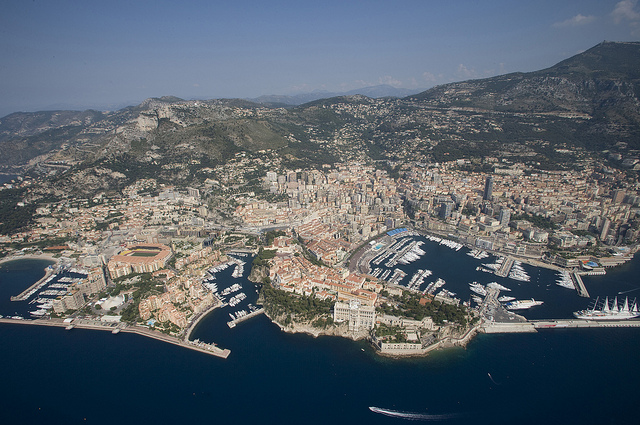 Photo centre de presse de Monaco
If you have lots of money, you will love Monaco. You'll find there a rich night and cultural life, fashion and luxury boutiques, Ferrari and other very expensive cars retailers, first class sport facilities, hotels among the most famous on the Riviera, such as the Hotel de Paris and Michelin starred restaurants such as the Alain Ducasse's Louis XV***, which is precisely the restaurant of the Hotel de Paris. 
If, like many visitors you're on a tight budget, Monaco will not have much to offer, but to walk in its streets  and to visit one or two museums such as the Oceanographic museum, once headed by Commandant Cousteau.
Monaco is an independant state. It owns it exceptionnal wealth to its tax system which attracts here billionnairs from all over the world, and many sportsmen. To its secrecy prone banking system, too, which attracts huge amounts of more or less clean money, and even some not clean at all.
The real Monaco citizens are only 9000 of them. There are around 30,000 foreign residents enjoying this tax system. The currecy is euro. But if you send letters or postcards, be sure to use Monaco's stamps (that's the point anyway, no?)
Monaco has made huge works to expand its territory on the sea. The whole Fontvieille area, next to the Louis II stadium and the nearby harbor are completely artificial.
Go to Monaco
Don't use your car to go to Monaco.
The city will surprise you with its numerous car and pedestrian tunnels, its lifts enabling you to free yourself from the hilly nature of the city. Nothing shabby here. Underground pathways are made of marble and the lighting is nicely designed. The city is easy to explore walking. There's a fairly long way from Fontvieille to the Larvotto, though. You'll be able to use the buses, if needed.
To park is very difficult here, or expensive, or both on some occasions.
The best way is to come by train. It's a 20mn ride from Nice's main station. The bus (line 100) is cheaper but longer (expect 1h from Nice). The line goes as far as Menton.
If you come from Nice airport you can use a cab, of course, but also helicopters. A few years ago, Radio Riviera, the english speaking radio of Monaco said that it was not more expensive to come with an helicopter than with a taxi, if you're on your own. We'll have to check this. Meanwhile, inquire.
Access to the "Rocher" (the Rock, where the castle and the oceanographic museum are located) is restricted and allowed only to Monaco or 06 (Maritim Alps) licensed cars. Anyway you can't park there. So don't go unless you pick up or drop someone or something.