Page 1 of 3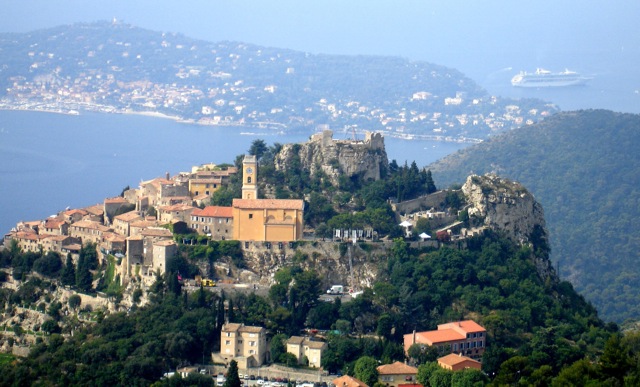 Three parts in Eze.
Eze bord de mer (Eze Sea shore)
It's a very quiet village on the Low Corniche, with villas on the slopes. You can go there by bus from Nice (line 100) or by train. The train station is right next to the beach and you'll be able to come here to avoid the crowd and the pebbles in Nice.
There isn't much else to visit and do in Eze Bord de Mer. We just mention the "Nietzsche trail" going to the old village. It was given the name of the philosopher because he lived in Eze for a while. The beginning of the climb is nice because themore you walk the more the view widens. But the end is less interesting because you are in a hollow and you don't see much any longer. Beware the sun in summer, no shade.
To find the start of the trail (2mn from the station), first go on the Low Corniche road, cross it (there is a pedestrian bridge and a zebra crossing) and take the street going up just right after the zebra crossing. It's a street first which cars can use but soon it'll be a rocky but usable trail.
2km after the village there is a tunnel. If you take the road on the right just before the tunnel (coming from Nice) you'll drive along the Sea and will meet the road at the exit of the tunnel. (That's actually the old road). You'll passs under large properties and next to the Hotel du Cap Estel*, a high standard hotel next to the sea in a very quiet place and with a Michelin 1 star restaurant.