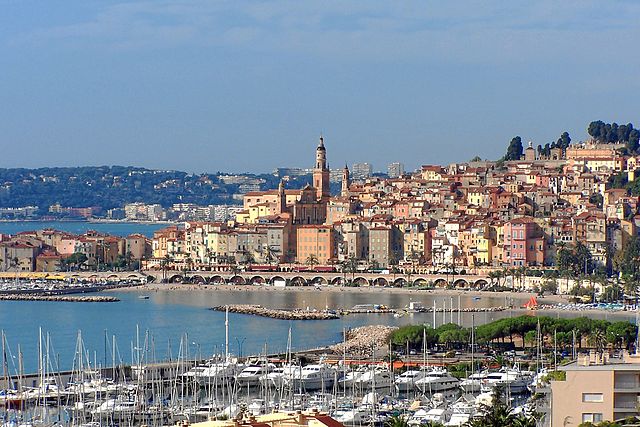 Photo Berthold WERNER
Menton has a reputation to be a city of elderlies. It deserves it. David Guetta gives few gigs here and many inhabitants are retired people who came here to enjoy the micro-climate, especially sunny. The city is indeed protected from the Northern winds by more than 1000m high mountains which directly overlook it (Cime of Baudon...). In winter the contrast with other parts of France is obvious.
But this is what may attract you here: the seaside and at the same time a more serene atmosphere than in other cities : Cannes, Nice... To find an accomodation in Menton or simply get an idea of the prices and the availabilities click here.
The town has no munuments worth going there especially to see them. However the old town, the Boulevard of Garavan, the Sea side... all these make for nice walks.
Beaches are sandy or with little pebbles.
Besides, menton is a real city where people live. It means that there are many shops, markets and that you will find there all the services you may need during your vacation.
Menton also has a bus network linking it to other cities. You can come from Nice by train (there are 3 stations in Menton) or by bus (line 100) and then make a bus connection to Sainte Agnes or Sospel. The buses also go to La Turbie and Monaco Monte-Carlo. Tickets cost 1,50€ in the buses, 1,20€ in an agency. The Menton's buses web site is here.
The most famous of all cultural events in menton is the lemons festival. It is a Menton's equivalent to the Nice Carnival. It occurs at the same time, actually, in February. Floats covered with thousands of lemons and oranges parade in the city. You may consider it kitsch or on the contrary love it. Anyhow it attracts lots of people.
Here is the cultural agenda of Menton.