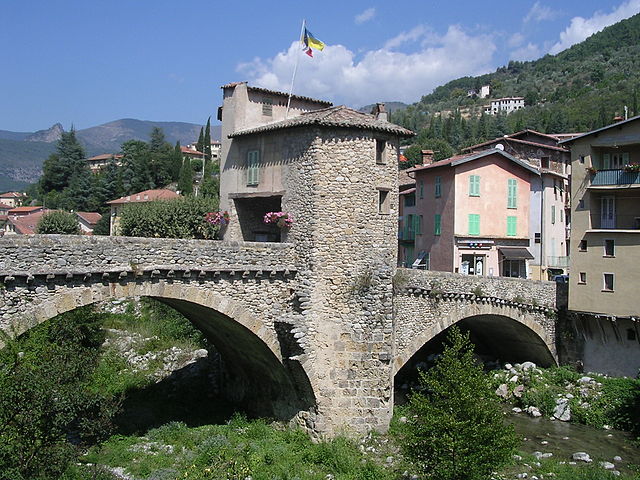 Photo Promeneuse7
Sospel is a Middle Age village located on the Salt road which used to link Nice to Cuneo and Torino. The bridge on the Bevera river included a toll. It was rebuilt as it used to be after being bombed during WWII.
Indeed, Sospel was a Resistance stronghold. The bravery of its inhabitants earned it the Croix de Guerre, (War cross). A prisonner camp was set by the Italians in the Salel barracks. Later it was used as a torture house when the nazis would replace them. The cooperative building would see the execution of several partisans in 1944.
The village is off the beaten tracks and is quiet even in high season. The road to go there is pretty but also winding. You can also go to Sospel by train using the Nice - Tende - Cuneo line.
To find an accomodation in Sospel use this link.
Today you can enjoy Sospel architectural inheritage : churches and chapels, nice streets and squares. The city was chosen as the set for the Jacques Doillon's film : "Un sac de billes" (A bag of Marbles) in 1975.
There are also 2 large fortresses of the Maginot line in Sospel. They are in very good conditions, with underground tunnels, and can be visited.
le fort St Roch
Open only on w.e. from 2 to 6pm in June & September
every day but on mondays 
Information : 04 93 04 00 70 - Museum : 04 93 04 14 41 - Tourist's office : 04 93 04 15 80
Rates : 3€ children, 5€ adults, 4€ in groups over 15 people.
le fort du Mt Agaisen
it is restored by a team of volunteers. Open on the 2nd and 4th sundays in July an August. Guided tours at 10:30am, 2:30pm and 4:30pm sharp!
The visits last 1h30, and you will be shown how the fort equipement worked. 5€
Contact: Monsieur PONCIN : Tel: 04.93.89.10.58
There is also an older fort from the end of the 19th century : the Mt Barbonnet fort, overlooking the town at 850m. The troop could stay there besieged during 6 monthes. Guided tours on tuesdays and saturdays in July & August at 3pm.
Cultural agenda on the tourists' office of Sospel.