Not to be confused with Roquebrune sur Argens, in the Var, this town is located between Monaco and Menton.
It offers sandy beaches and a Cape, smaller than the Capes of Antibes and St Jean Cap Ferrat. You can walk around it, it's an easy and enjoyable walk. Beware the sun in summer, and do not go there when waves are too strong, and the wind blows too much. The trail was named le Corbusier after the famous architect who drowned and died here.
Most of the inhabitants now live not far from the Sea. The old village is higher. It was safer when pirates and arabs used to come here to loot and fetch slaves.
Roquebrune attracted many famous visitors such as the queen Victoria and Eduard VII, Napoleon III's  widow Eugenie...
The 10th century castle can be visited. It's one of the oldest castle in France. It is open
from oct 1st to jan 31st from 10am to 12:30pm and from 2pm to 5pm
from feb the 1st to may the 31st from 10am to 12:30pm and from 2pm to 6pm
from jun the 1st to sep the 30th from 10am to 1pm and from 2:30pm to 7pm
but closed on May 1st, November 1st and 11th, on Christmas and January the 1st + on fridays in Nov, Dec, Jan. Entrance tickets cost 5€/adult, less for children. You can go there by bus from Menton using the line #21.
The castle is not intact but there are fairly interesting ruins including a tower, walls, some of them being adds-on. The view from there is beautiful (Sea, Cape, Monaco...). To walk in the little streets around the castle is nice, too.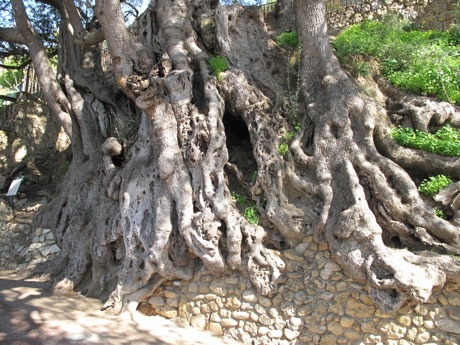 In Roquebrune you will also see a very old olive tree. It is estimated to be between 1500 and 3000 years old. It is probably 2000 years old and thus, the oldest tree in France and one of the oldest in Europe. It began its growth in the Roman Empire. It is 150m away from the old village, "chemin de Menton", near number 182, on your left when you descent. There is an other millenary olive tree in Nice, but it is younger.
To find an accomodation in Roquebrune or simply check the prices and availabilities.
If you like hanggliding you may already know Roquebrune. It enables an exceptionnal flight from the Mt Gros base, with Monaco on the right hand, Italy and the Cape Martin on the left hand and the Sea in front of you. Landing is on the beach. Therefore a specific regulation is enforced to avoid accidents. See the Roquebrune hanggliding club to fly there.